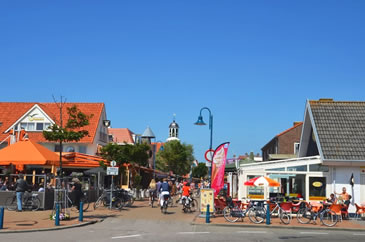 De Koog is the tourist heart of Texel, located on the west coast of the island, with only one row of dunes separating it from the North Sea. It is a lively and atmospheric village, surrounded by beautiful nature and known for its wide sandy beaches.
Dorpsstraat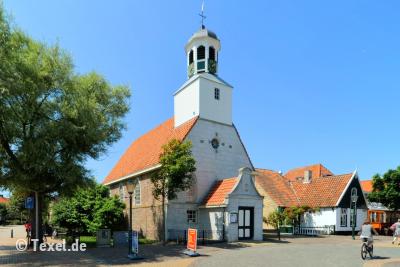 The Dorpsstraat, the main street of De Koog, is a vibrant meeting place that offers a wide range of shops and entertainment venues. As a pedestrian area, it is filled with diverse shops, ranging from souvenir and clothing stores to supermarkets and specialty shops, making the shopping options very diverse. Additionally, the Dorpsstraat is also the center of the bustling nightlife in De Koog, with numerous restaurants, cafes, and bars where you can enjoy a variety of dishes, from local specialties to international cuisine. There are also several terraces where you can relax and enjoy a drink while soaking in the lively atmosphere. As the sun sets, the Dorpsstraat further transforms into an entertainment center with cozy cafes and nightclubs to experience the nightlife.
Beaches and Nature
De Koog is located right by the sea, providing easy access to the beautiful sandy beaches. Only two rows of dunes separate the village from the beach. The main beaches can be reached via the Badweg. At the beach, there are various beach pavilions where you can relax and enjoy the sea view. In addition to outdoor seating and delicious food, some pavilions also offer beach chair and wind protection rentals. De Koog is bordered on the east side by the Dunes of Texel National Park, a beautiful nature reserve with dunes, forests, and heathlands.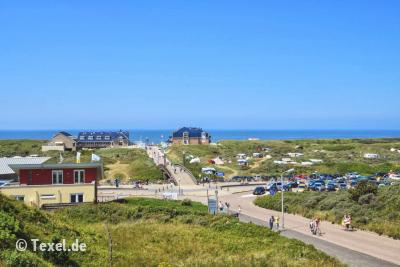 Activities
In addition to shopping, dining, and enjoying the beach and nature, there are other activities to do in and around De Koog. You can, for example, visit Ecomare, located on the Ruijslaan. This is a nature museum, seal sanctuary, and sea aquarium in one. Furthermore, De Koog is home to the Maritime & Beachcombers Museum, located on the Pontweg, which highlights the maritime history of the island. You can also visit the Calluna swimming paradise, located on the Schumakersweg.
Events
De Koog is the venue for various events and festivals throughout the year, such as the weekly summer market, the SunBeats Beachparty, and various music festivals.
All in all, De Koog offers a dynamic mix of natural beauty, lively streets, and a wide range of activities and events, making it a popular destination for both tourists and residents of Texel.