Swimming Pool De Krim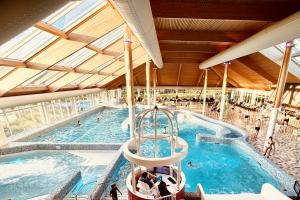 A swimming pool with a pleasant indoor climate, various spectacular attractions and an outdoor pool with sunbathing lawn. The swimming pool is located at Holiday Park De Krim in De Cocksdorp. There are three water slides and a white water course. Especially for young children, there is an indoor spray ...
Swimming pool Calluna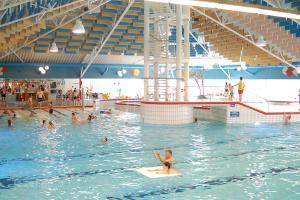 Calluna Swimming Paradise offers a diverse swimming experience that promises fun for the whole family. Whether you're after adventure or relaxation, Calluna has something for everyone. Facilities and Attractions; Immerse yourself in our expansive leisure pool, where a water mushroom and a rapid await discovery. For our youngest visitors, we have a ...
Outdoor pool Molenkoog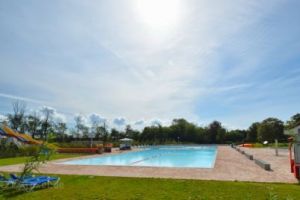 Texel has a beautiful and large outdoor swimming pool where you can swim, slide down the giant slide and simply have a lot of fun! For the littlest ones there is also plenty to do. With a paddling pool and a large play and sunbathing area, the kids will certainly not get bored. There is also table tennis, air trampoline, a sandbox and a swimming pool kiosk and a ...
Sailing on the Wadden Sea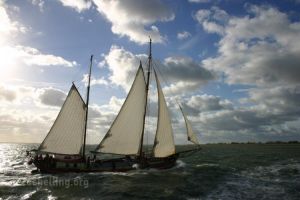 Holland Sail offers multi-day sailing trips on the IJsselmeer and the Wadden Sea. This is especially for groups of 12-48 people on board ships of the oldest ...
Paracentrum Texel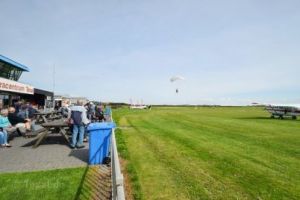 Of je nu wilt leren parachutespringen, een tandemsprong wilt maken of al vele sprongen hebt, Paracentrum Texel heeft alles om uw sprong tot een succes te ...
De Texelse Golfclub
Golfbaan De Texelse ligt te midden van prachtige, uitge- strekte duingebieden. Ook als vakantieganger kunt u hier start- tijden reserveren. Een eerste ...
Circuitpark Karting Texel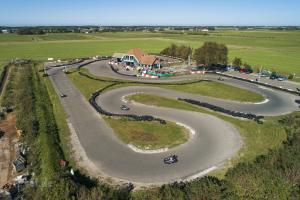 Challenging bends, high speeds, a long straight stretch, and the smell of rubber on the tarmac. Circuitpark Karting Texel, just outside Den Burg, is the place ...
Wadlopen
What is a nicer way to enjoy the nature in the Wadden-region than by mudhiking? Strolling through the mud on a way to an island... It's dangerous to go on a mudhiking tour without a guide. There ...
Kitesurfschool Texel
Ruijslaan 94, De Koog, Texel
web.
Website
Surfschool Texel
Paal 17 - Strand-Zuid, De Koog, Texel
mob. +31 610 956 959
web.
Website
Foamball
Strandslag Paal 19 Zuid Ruijslaan 42, De Koog, Texel
web.
Website
Bike Totaal de Cocksdorp
Kikkertstraat 3, De Cocksdorp, Texel
tel. +31 222 316 432
web.
Website
Manege Elzenhof
Bosrandweg, De Koog, Texel
tel. +31 222 317 469
web.
Website
Rijwielverhuur Veerhaven Texel
Pontweg 2, Den Hoorn
tel. +31 222 319 588
web.
Website
Nieuwediep Marine Golf Club
Kortevliet 1bb, Den Helder
tel. +31 223 658 675
web.
Website
Fiets Inn Texel
Nikadel 75, De Koog, Texel
tel. +31 222 317 841
web.
Website
Manege Kikkert
Bosrandweg 277, De Koog, Texel
tel. +31 222 317 516
web.
Website
Ooghduyne Golfclub
Van Foreestweg, Julianadorp aan Zee
tel. +31 223 640 125
web.
Website
Bike Totaal de Koog
Nikadel 60, De Koog
tel. +31 222 317 333
Ruitercentrum De Krim
Roggeslootweg 4, De Cocksdorp, Texel
tel. +31 222 316 603
Exotic Sky Adventures
Hoofdweg 101, De Cocksdorp
tel. +31 222 311 658
Zandbank Sport en Adventures
Abbewaal 7, Den Burg
tel. +31 222 316 699