Circuitpark Karting Texel - Sport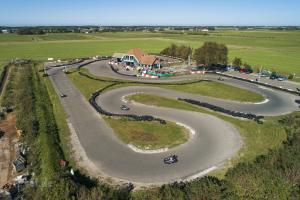 Challenging bends, high speeds, a long straight stretch, and the smell of rubber on the tarmac. Circuitpark Karting Texel, just outside Den Burg, is the place for a sensational adventure for the whole family, group, or individual.
An original outdoor circuit of approximately 500 meters with ten challenging bends where you can truly let loose. This speed is greatly amplified by the fact that you are low to the ground.
Furthermore Circuitpark Karting Texel is near the following sights: Cinema Texel (±1,2 km), Oudheidkamer (±1,2 km), Climbing the church tower of Den Burg (±1,3 km), Beachcombing Museum Flora (±1,9 km) & Outdoor pool Molenkoog (±2,0 km).
For information:
Akenbuurt 14, Den Burg
tel. +31 222 313 921
web.
Website