Maritime and Beachcombing Museum Flora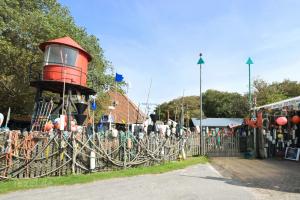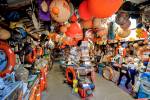 Maritime and Beachcombing Museum Flora on Texel invites young and old to experience the rugged and fascinating world of beachcombing. Recognized as the most entertaining family museum on Texel, Flora offers an unforgettable experience with a wide range of activities and exhibitions.
What can you expect?
A Rich Collection: With over 80 years of beach finds, Flora reveals the maritime history and present of beachcombing, shipwrecks, and the KNRM.
Interactive and Educational Experience: The museum offers various interactive and educational activities. Children can participate in a treasure hunt and various games like a fishing game and sea memory.
Stranded Ships and Courtyard: Discover 'stranded' ships such as the Norwegian wooden cutter and a real-life rescue capsule. Admire unique items on the courtyard, salvaged by Texel North Sea fishermen.
Large Playground: For the kids, there is an extensive playground with a climbing tower, swings, and a thirty-meter-long zip line. Perfect for a day of fun and adventure.
An Adventure for the Whole Family
Maritime and Beachcombing Museum Flora is the perfect destination for a day out with the entire family, regardless of the weather! It's an experience where stories, history, play, and adventure come together.
Experience a day full of adventure and discovery at Maritime and Beachcombing Museum Flora on Texel!
Furthermore Maritime and Beachcombing Museum Flora is near the following sights: Catharinahoeve (±1,7 km), Circuitpark Karting Texel (±1,9 km), Ecomare (±1,9 km), Swimming pool Calluna (±2,0 km) & Playground Bregkoog (±2,1 km).
For information:
Pontweg 143, De Koog
tel. +31 222 321 230
web.
Website