History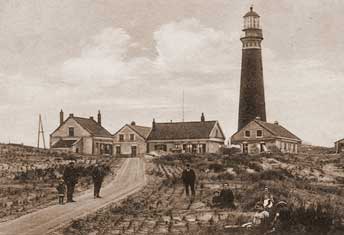 The first settlements in Texel are from the middle of the Stone Age (8,000-4,500 B.C.). The land was not protected by dikes yet, and therefore the settlements were found on the higher boulder clay lumps, which came into being during the Pleistocene, 1.8 million years ago until 8,000 B.C. Later the villages of Den Burg, De Waal, Den Hoorn, Oosterend and De Westen came into being here.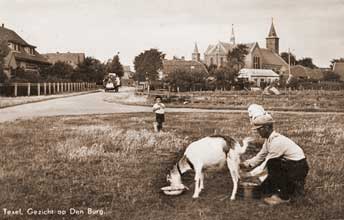 During the Holocene (8,000 B.C. until now) the hollows in the boulder clay lumps were filled with sea clay. The area between Den Hoorn, Den Burg, Hoge Berg, De Waal, and Oosterend is also called the old land. In the thirteenth century, the dunes between De Hors and De Koog came into being, on the north side of Texel. The village of De Westen had an open connection (a channel) with the North Sea in this century, which was why the fishing industry could develop well. In the fourteenth century, the channel got dry due to dispersion. After this, the village was abandoned by the inhabitants, because the major source of income was lost. Almost immediately afterwards the houses were broken down. The church of the village was only broken down in 1859, so much later. The only building that still exists is Torenhuis in the street Westerweg.
Around 1300, dams were constructed between the higher parts, which functioned as dikes and as a connection between the areas. Thanks to other dikes polders came into being, which were called 'cooghen'. This can still be seen in place names such as De Koog.
On the west side of the island dunes came into being. Around 1630, people started to encourage the development of dunes by placing reed screens and by planting marram grass. Because of this, the island Eijerland and Texel grew together. Eijerland was diked in in 1835. In 1846, 1847 and 1876 respectively the polders De Eendracht, Prins Hendrikpolder and Het Noorden were diked in.