Ecomare - Museum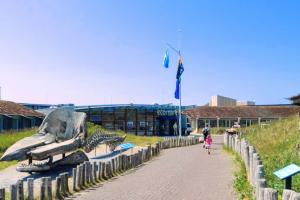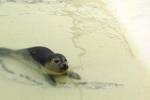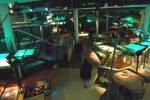 Ecomare on Texel is a seal rescue center and nature museum located in the National Park 'Duinen van Texel'. This center offers a versatile and educational experience for the whole family, where you can get up close with the nature of the coast and sea.
What can you expect?
Seal Rescue Center: See seals up close at Ecomare's rescue center. The feeding times at 11:00 and 15:30 hours are a must-see. Don't miss the opportunity to watch these beautiful animals eat and play up close.
Observatory: Next to Ecomare, you'll find the observatory where you can learn all about stars and the universe. A perfect addition to your visit for those interested in astronomy.
Playground: For the youngest visitors, there are play equipment in the playground where children can have a great time.
Sperm Whale Skeleton: Admire the impressive skeleton of a sperm whale that stranded at Texel in 2017. The skull alone is 6 meters long and weighs 660 kilograms!
Sea Aquarium: Dive underwater in Ecomare's Sea Aquarium, where you can explore various habitats. From the small inhabitants of the Wadden Sea to the large fish of the North Sea, including sharks and rays.
Nature Museum: In Ecomare's museum, you'll find captivating exhibitions about the mudflat, the sea, and the animals that inhabit them. Discover the marvelous world of the mudflat and the impressive Whale Room.
Shop: In Ecomare's shop, you'll find lovely souvenirs, books, field guides, and maps. Ideal for lasting memories or to deepen your knowledge of Texel's nature.
An Enriching Experience for All Ages
Ecomare is an enriching experience for anyone interested in nature conservation, marine biology, and environmental education. Whether you're interested in marine mammals, birds, or the underwater world, Ecomare offers an unforgettable experience for the whole family.
Immerse yourself in nature and discover the wonders of Ecomare on Texel!
Furthermore Ecomare is near the following sights: Maritime and Beachcombing Museum Flora (±1,9 km), Swimming pool Calluna (±2,1 km), Playground Bregkoog (±2,2 km), Catharinahoeve (±2,4 km) & Indoor Play Area Kogerstrand (±2,7 km).
For information:
Ruijslaan 92, De Koog
web.
Website