Lighthouse Eierland Texel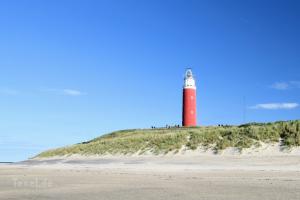 The bold red lighthouse on the northern tip of the island is for many people the symbol of Texel. The lighthouse is almost year-round daily open to visitors.
Magnificent views
After taking the staircase of 153 steps a magnificent view awaits you ; over the North Sea, Wadden Sea and the nearby island of Vlieland.
Turbulent history
In 1864 Texel got a lighthouse, after years of campaigning conducted by the Texel solicitor Kikkert. Before the establishment of the lighthouse every year many ships perished, because the surrounding waters were so dangerous for shipping.
Characteristic
Name: Eierland
Built: 1863
Tower height: 34,7 m
Light height (above sea level): 53,2 m
Floors: 7
Stair treads: 153
Manned: No
Open to the public: ja
For information:
Vuurtoren Texel
Vuurtorenweg 184, De Cocksdorp
tel. +31 222 317 741
web.
Website