Campground Camping de Krim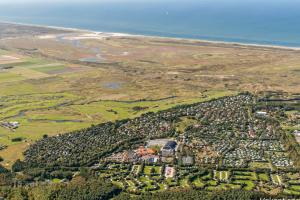 The campsite at De Krim is set out in a pleasant and natural way, with a rich variety of camping pitches in large or small fields, whether sheltered, shaded or in the sun all day long. There is often a playground for the little ones nearby, within sight. The modern, heated shower blocks are centrally located and are intensively looked after. Hot showers are of course free.
You can also opt for a private sanitary unit on a ComfortPlus pitch, or water and TV connections on a Comfort pitch. The whole campsite has wireless internet (for a fee).
De Krim is ideal not only for caravans or tents, large or small, but there are also special pitches also for camper vans inside or outside the gate. The variety available is complemented by the possibility of hiring a furnished cabin, to which only need bring a sleeping bag and cutlery.
As well as the many facilities at De Krim, all sorts of activities are organised for kids during school holidays. For example, there's the recreational programme featuring Joris Jutter, the son of a genuine Texel beachcomber.
Book your favourite spot on the campsite now. The sooner you book, the greater the chance that your favourite pitch is available for your Texel holiday.
Even on a five-star campsite on Texel, with the most hours of sunshine in the Netherlands, it can rain. Therefore we offer a GoodWeatherGuarantee so you can still enjoy the rest of your booked holiday at another time.
For information and reservation
Search & Book
Roggeslootweg 6, De Cocksdorp
web.
More information