Natuurcentrum De Marel - Sight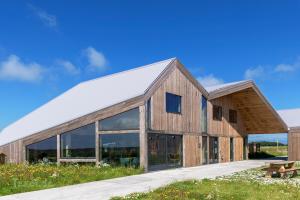 The perfect starting point to discover Texel's nature.
Visit Nature Center Texel to get information on where Texel's nature is at its finest at the moment, where the orchids are blooming in Waalenburg, or which birds can be spotted on the bird boulevard. Get a close-up view of (stuffed) birds and learn all about them. Book an excursion to get a close look at birds, orchids, or the tidal flats. Prefer to set your own pace? Then follow one of our walking or cycling routes.
Access to Natuurcentrum De Marel and the nature playground is free.
Nature Playground OERRR on Texel
Let your children have fun in the nature playground of OERRR while the bike charges and you plan your route further. Nature Playground OERRR on Texel is a natural play area where you can play with water, sneak through bushes, and build nests. Meanwhile, (grand)parents can enjoy coffee, tea, and treats on the terrace of Natuurcentrum De Marel. A delightful activity for the whole family!
Texel's nature playground is also accessible to children with disabilities. The playground is designed in such a way that all children can play together.
Furthermore Natuurcentrum De Marel is near the following sights: Swimming pool Calluna (±2,2 km), Playground Bregkoog (±2,2 km), Culture History Museum Texel (±2,7 km), Beachcombing Museum Flora (±2,9 km) & Indoor Play Area Kogerstrand (±2,9 km).
For information:
Nieuwlanderweg 38, De Waal. Texel
web.
Website