Culture History Museum Texel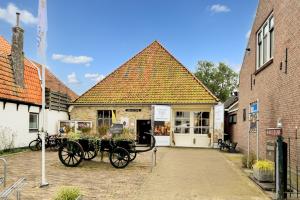 You can see various authentic farm wagons, carriages in the museum, as well as sleighs and old farm machinery which were once used on the island of Texel. You can also see all kinds of machines and tools for milk processing, and cheese and butter-making. And see how people lived and worked on a farm 100 years ago.
In particularly the role of women in farming is highlighted, how they worked in the dairying and in the flax and wool processing. Then our blacksmith should be mentioned, aside from making products for the benefit of local businesses it also makes souvenirs that are sold in the museum.
Furthermore Culture History Museum Texel is near the following sights: Oudheidkamer (±2,5 km), Climbing the church tower of Den Burg (±2,5 km), Cinema Texel (±2,6 km), Natuurcentrum De Marel (±2,7 km) & Outdoor pool Molenkoog (±2,8 km).
For information:
Cultuurhistorisch Museum Texel
Hogereind 6, De Waal - Texel
tel. +31 222 312 951
web.
Website