Get Directions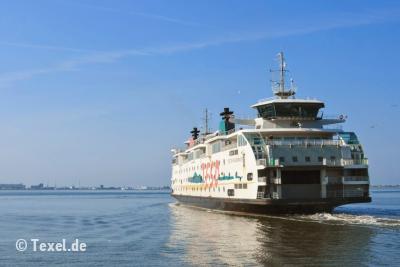 A ferry sails several times a day, 365 days per year between Texel and Den Helder. This ferry line is provided by the private company Teso. The boat trip, on the comfortable and modern ferries, lasts approximately 23 minutes.
Address ferry port: Havenplein 3, 1781 AB Den Helder.
You can find the exact departure times, latest changes, rates, online ferry tickets and more information on the website of the shipping company: http://www.teso.nl/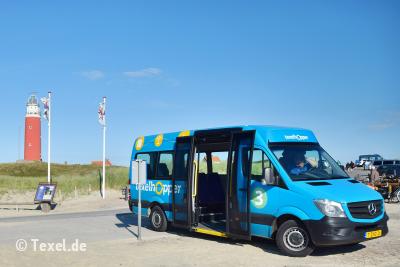 Texelhopper
Reach any destination on the island with 150 stops. All destinations can be reached with the Texelhopper mini-buses. Reserve at least 1 hour in advance via www.texelhopper.com or call +31222-784000.
Price
Single rides cost a fixed price (€ 3,00) to anywhere on the island. The Texelhopper mini-buses should be booked and paid for in advance. Tickets are available at more than 120 sale points. Pay with the code on you pre-paid bus ticket or with iDeal, credit card or the Texelhopper pass.
Public Transport to Texel
As the times and routes regularly (temporary) change, we always recommend to use the website http://www.9292.nl/. Through this website you always have the correct date and time of date that you have planed to using public transport. You'll also get direct information about the price, the total travel time, connection points, transfer times, etc.
Nearest train station to Texel
Railway station Den Helder
Middenweg 1
1782 BL Den Helder
web. http://www.ns.nl/
Just outside the train station you can take the Bus towards Texel. For exact times and routes we always recommend to use the website http://9292.nl/en/.
Route
If you want to determine the exact route from your own street to Texel? Please it could fill. The form below.
Simply fill in your departure address and then press "Calculate Route". Then your route will be calculated. This may take a few seconds. Next you can just print the route.